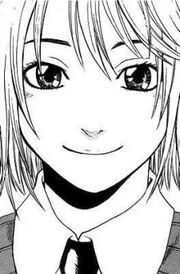 Aoi Asada (朝田 あおい Asada Aoi) a classmate and childhood friend of Fujimaru. She is the vice-president of the newspaper club.
Appearance
[
]
Both the color of her hair and her eyes are unknown.
Personality
[
]
Aoi is a very good friend and will do whatever for her friends; she has showed to even be willing to beat up a teacher. She is a very skilled karate fighter, being a female champion. She has great admiration for Ryunosuke Takagi.
Summary
[
]
First Season: A 2nd year and the Vice-president of the Newspaper Club. She is a student at the dojo where Fujimaru's father volunteers as a teacher.
Second Season: Asada too, returns in the second season, having now been accepted in Karate college though the bullet wound she suffered from Orihara, from the Bloody Monday incident, left a scar on her leg. It has been shown that she is being left in the dark about "Falcon's" continued activities.
Last Season: She barely appears in this season, but returns in the end to attend the Fujimaru/Hibiki and Otoya/Haruka double wedding.
Drama Summary
[
]
First Season....
Second Season....
Trivia
[
]
She is played by Mina Fujii in the live action drama.
She is 17 in the first season, 19 in the second, and 20 in the last.
She is 162 cm tall, her blood group is AB, and she is a Libra.
Her three sizes are B: 85, W: 60, H: 88.
Her favorite food is the apple pie made at a specific fast food store, and salted squid.